Rodin, what's new
See all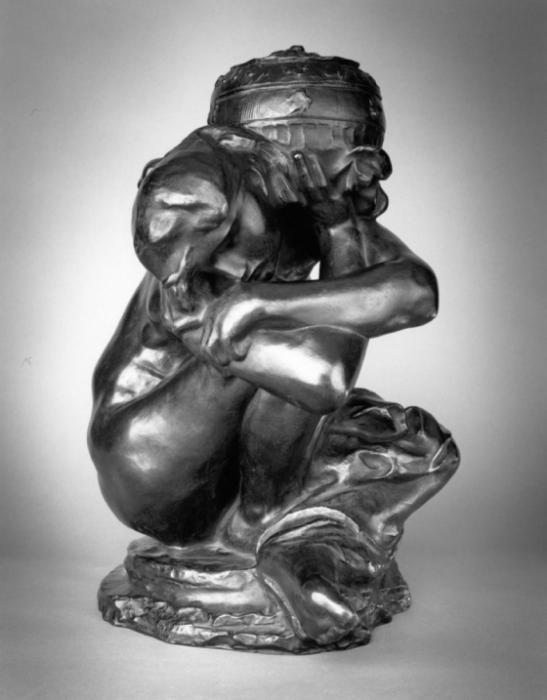 Auguste Rodin (French, 1840–1917), Fallen Caryatid with Urn, modeled 1883, enlarged 1911-17; Musée Rodin cast 4 in 1982; Bronze; Coubertin Foundry; 45 1/4 x 36 3/4 x 31 1/8 in. Lent by Iris Cantor.

Rodin: The Human Experience
From May 6 to July 30, 2017
Flint Institute of Arts, Flint, MI, USA
A traveling exhibition of 52 bronzes by the French sculptor who revolutionized the genre, this selection of stunning works demonstrates Rodin's particular passion for modeling the human form in clay, the medium in which his hand and mind are most directly evidenced. While Rodin's works always remained faithful to nature, he departed from traditional practice in seeking to reveal the creative process.
The bronzes on view represent major achievements throughout Rodin's career. They include powerful studies for The Burghers of Calais, as well as works derived from his masterpiece The Gates of Hell. Among works demonstrating his experimentation with assemblage is The Night (Double Figure), while other works on view, such as Monumental Torso of the Walking Man, demonstrate his admiration for Michelangelo or, as in Dance Movement D, speak to his interest in understanding how the body moves.
The exhibition is especially rich in portraiture. Included are Rodin's renowned depictions of the writers Victor Hugo and Honoré de Balzac; the composer Gustav Mahler; the artist Claude Lorrain; one of his favorite dancers, Hanako; and The Creator, which is likely a self-portrait.
Rodin's deft skill in using the bronze-casting technique to represent living flesh and his interest in expressing extreme psychological states were highly influential upon younger artists, both in Europe and America. The exhibition reveals why the artist is considered the crucial link between traditional and modern sculpture.
This exhibition has been organized and made possible by the Iris and B. Gerald Cantor Foundation.
> Portland Art Museum (January 21-April 16, 2017)
> Flint Institute of Arts (May 6-July 30, 2017)
> Telfair Museums* (September 1, 2017-January 7, 2018)
*The Telfair Museums exhibition presents a selection of 32 figures in bronze by Rodin accompanied by a range of related educational programs for all ages, including an opening lecture by Sobol, a major field trip program focusing on sculpture and writing for schools, and a family day with demonstrations by local public sculptors.